New and vintage dresser and other furniture
De Machinekamer has a varying range of vintage sideboards, cabinets, chairs, armchairs and more. In addition to our collection of new design furniture, we regularly have vintage pearls in our range. For example, we often have cool retro sideboards among the vintage range. A Pastoe sideboard , large Mahjongg sideboards made of teak wood, Scandinavian sideboards or brutalist vintage sideboards in beautiful dark wood: you will find it all with us.
The vintage range changes regularly, so keep an eye on our website (and social media).
Why choose a vintage sideboard?
You give your interior extra character by choosing a vintage eye-catcher such as a large sideboard. In addition to being an eye-catcher, a sideboard is also a practical storage unit. The design of retro sideboards is often simple yet distinct. You can set up various decorative accessories for that little bit extra.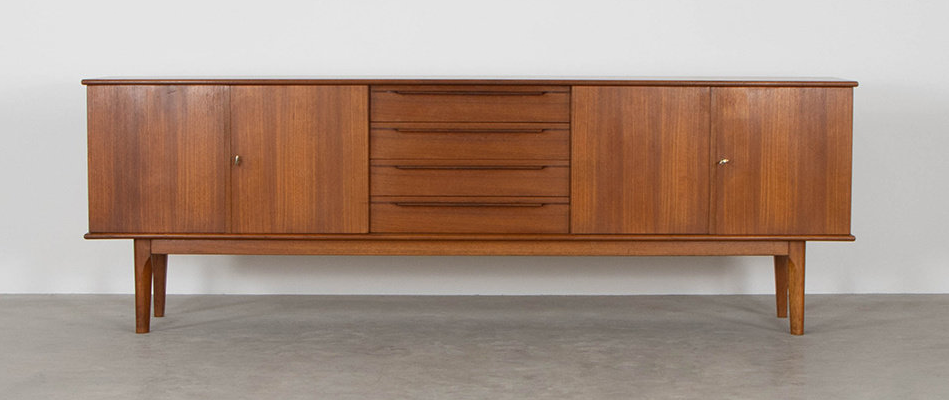 Mahjongg sideboard in teak wood
About De Machinekamer
We are De Machinekamer, a sanctuary for existing and new design classics. We love special products, products with a story. No mass production, but unique items with a layered character. We prefer to parse design classics down to the last screw to understand how every detail was created. For us, the scent of vintage is the scent of adventure, treasure hunting. We see the rich history of design classics as inspiration for the future. The engine for progress.
Vintage sideboards in the store or online
We love the combination of new and vintage, and that for 14 years. It started with refurbishing tubular frame chairs, now we have an extensive collection of new items and vintage sideboards, cabinets, chairs and armchairs. De Machinekamer has two showrooms: in Zaandam and Utrecht. You can therefore buy a vintage sideboard in the store, but also online, via the webshop. We recommend that you come and see vintage products, such as a vintage sideboard, beforehand and collect them yourself. Transport is possible for an additional charge.