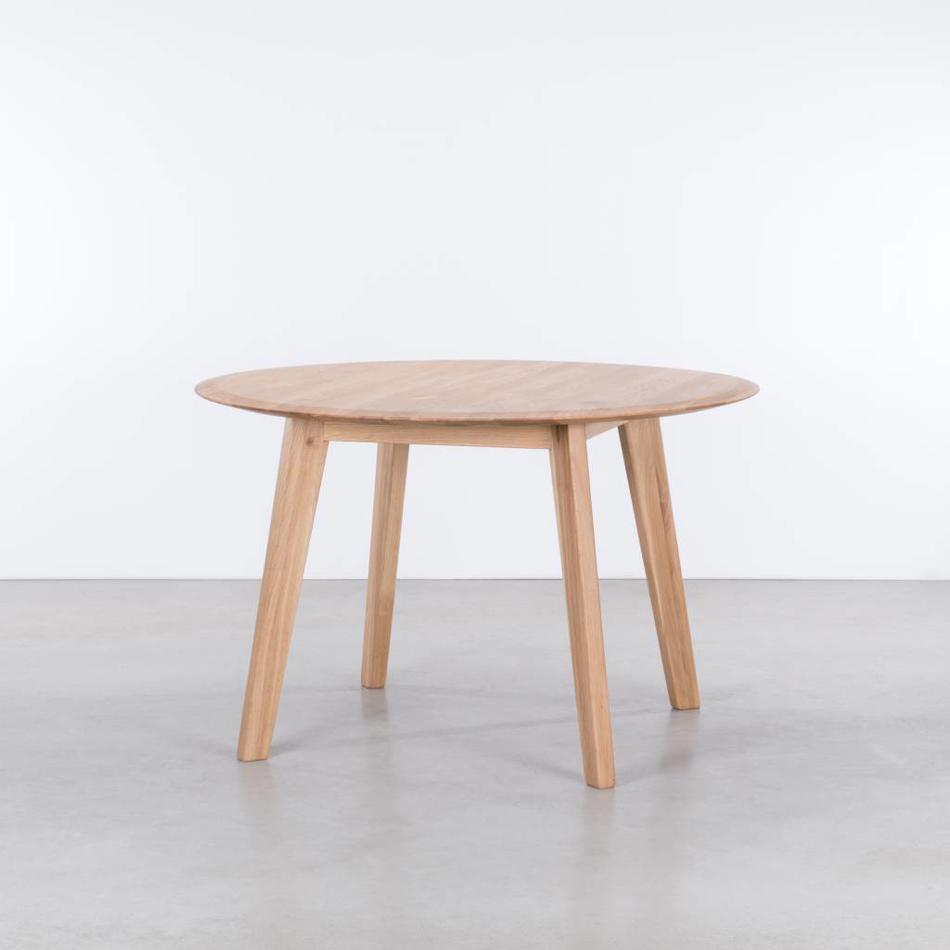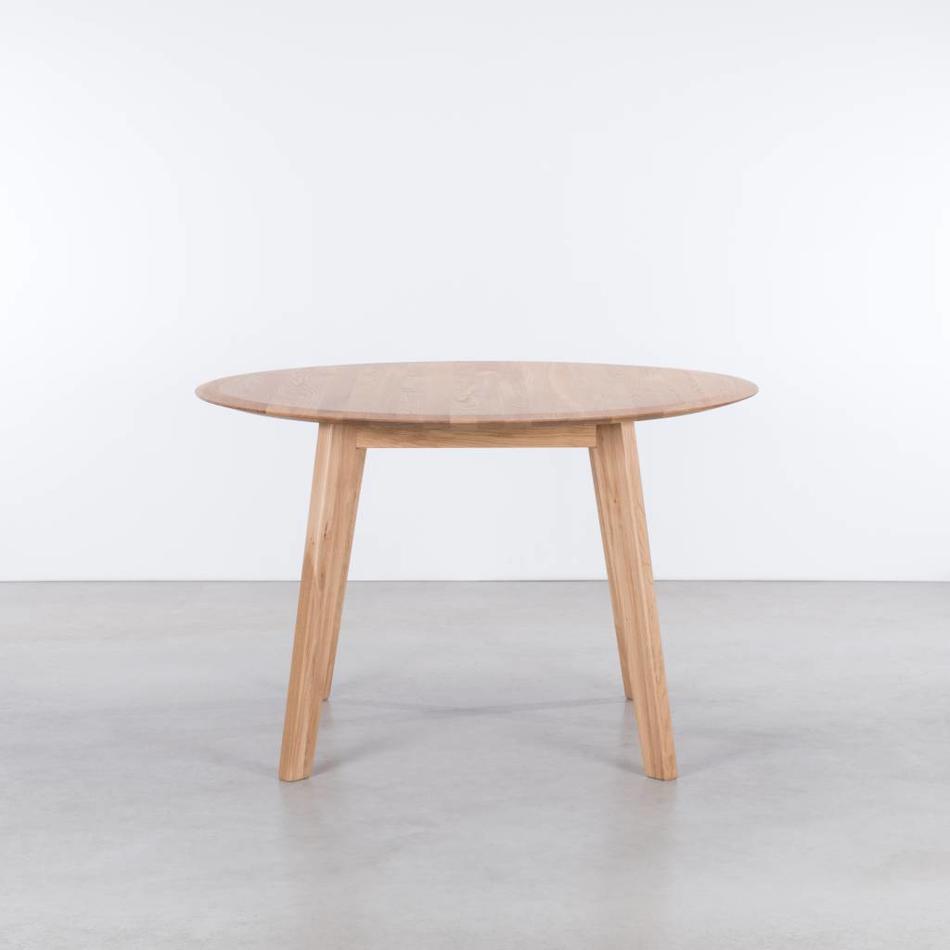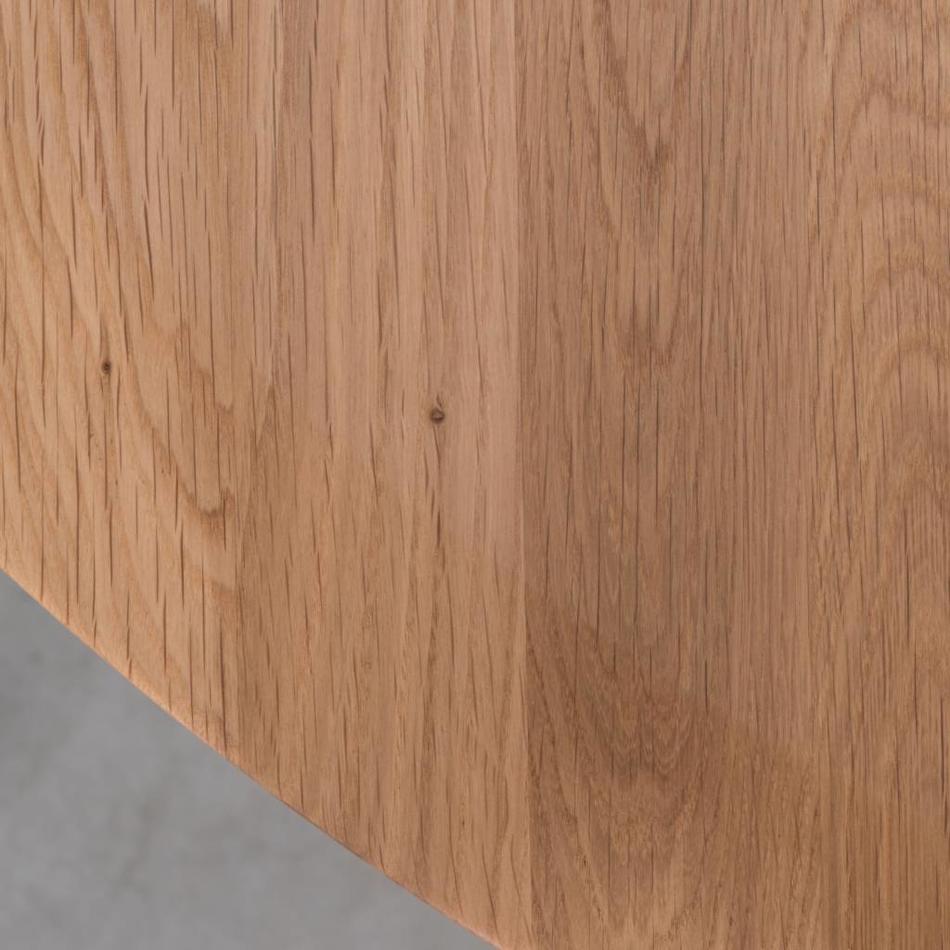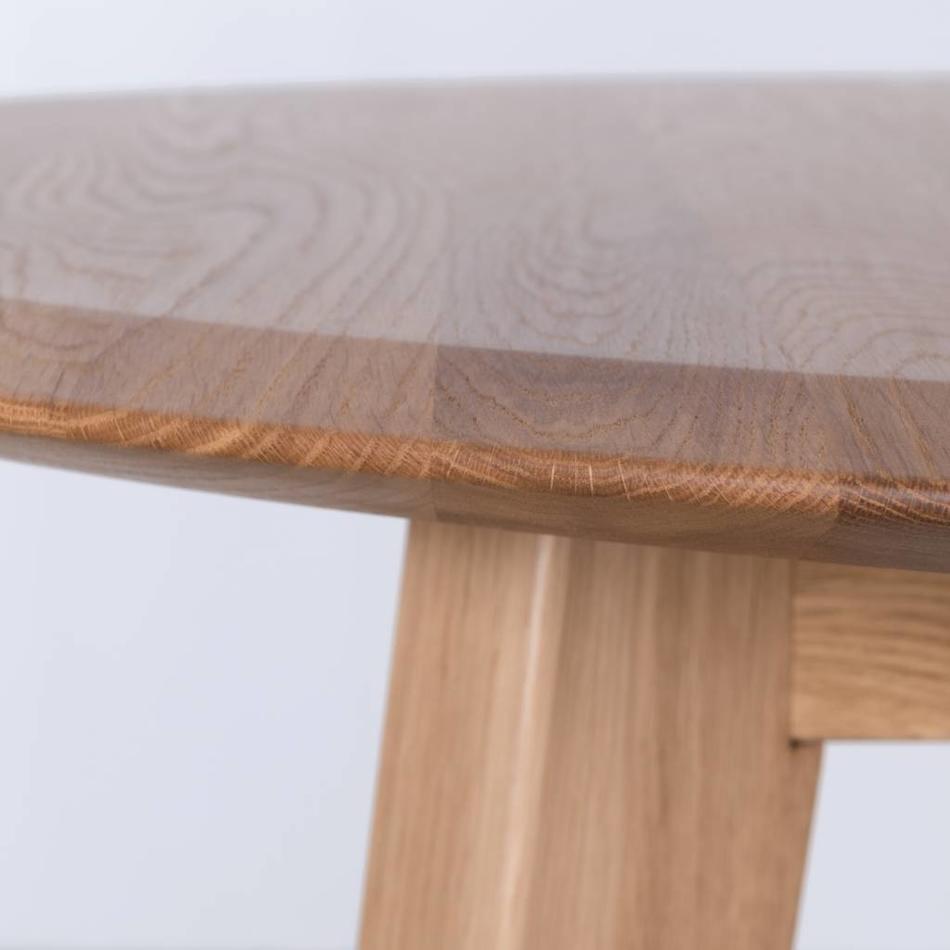 Technical documents
• Samt Round Dimensions (PDF)
• Samt Manual (PDF)
Round oak table Samt
Sav & Økse is a series of Scandinavian tables. The Samt table is characterized by its round corners and angled legs. This gives the Samt a light and playful character. A dining table that looks light, but stands strong on its legs. Everything on the table is smoothly finished. The tabletop is made of continuous sections of more than 5 cm wide. The edge of the table is inclined on both the top and bottom. This wooden design table is available in many different sizes and shapes, from square to round. 
A strong table
The Samt is a dining table that looks light but it can survive a lot. The table has extra strength because steel sleepers are milled in the bottom shelf. The bottom rail, which also gives the table extra strength, is placed approximately 25 cm from the edge of the table, which means that chairs with armrests can be placed well at the table.
Scandinavian wooden table
With a Samt you have a solid wooden table with a light appearance. Suitable for the Scandinavian interior style, but this exquisite table can also be combined well with other styles. Different chairs look great with this Scandinavian dining table. The Samt model is also available as a dining room bench. This dining room couch has the same characteristic shapes and together they are a perfect duo for your dining area.
A table that suits you
The Samt is available in various sizes, finishes and materials.
Wood types 
The table is available in the following wood types:

Finishes
The following finishes are possible:
• Whitewash (only possible with oak)
• Oiled (standard)
• Matt lacquered
The pictures show the oiled version of the Samt round table.
More information about the different finishes of our wooden tables
To maintain your oiled wooden table, we recommend that you refresh the table twice a year. The maintenance set can be purchased online.
Dimensions
The table is available in many dimensions. Some sizes are available from stock. Other dimensions are made when ordered. The Samt is also available as a rectangular table. Is the size you are looking for not listed? Then contact us about the custom made possibilities.
More information about the customized options with the Sav & Økse collection.
Construction
• Legs are mounted against beams using corner plate.
• Sheet reinforcement by milled sleepers.
• Standing visible beams (exact construction can differ per size).
Packaging
The table is delivered unassembled in one cardboard box. The table is easy to assemble. The manual is included.
De Machinekamer business market 
The Samt round table is suitable for private use, but certainly also for business use. If you want to order multiple Samt tables, please contact us. We will then make a quotation for you without obligation.
DETAILS
DELIVERY TIME
On backorder: 6-8 weeks
AFMETINGEN(LXBXH)
120 × 120 × 76