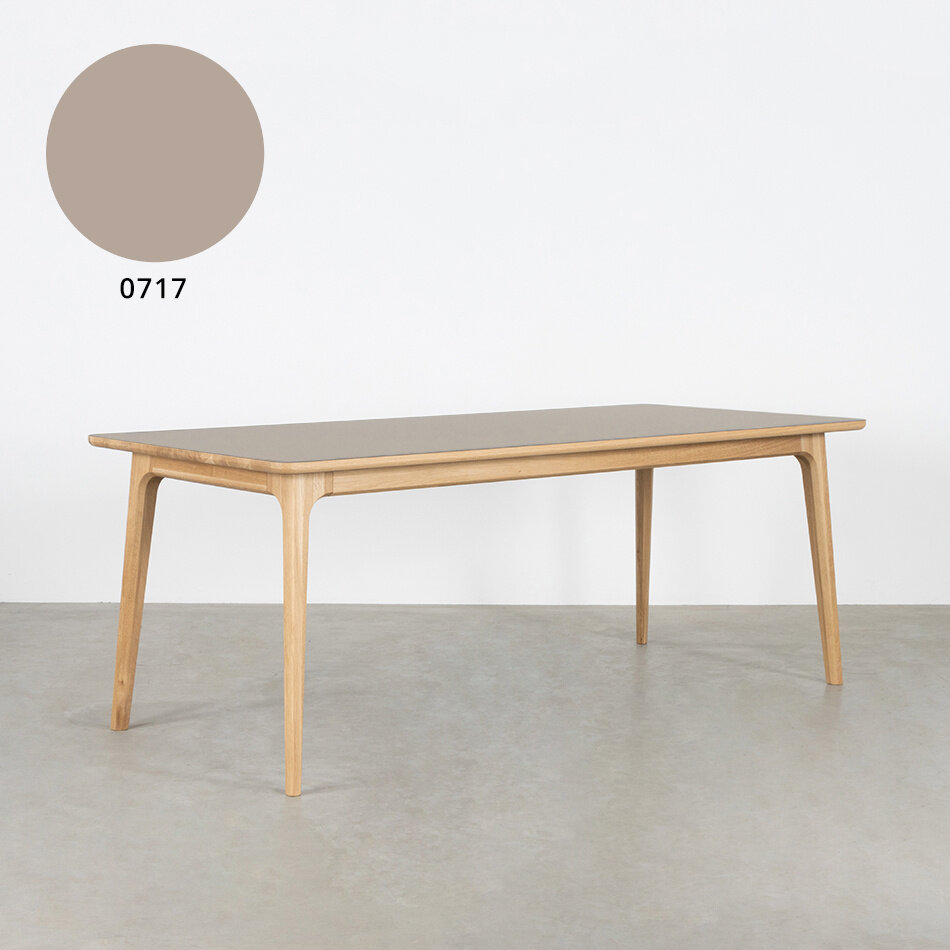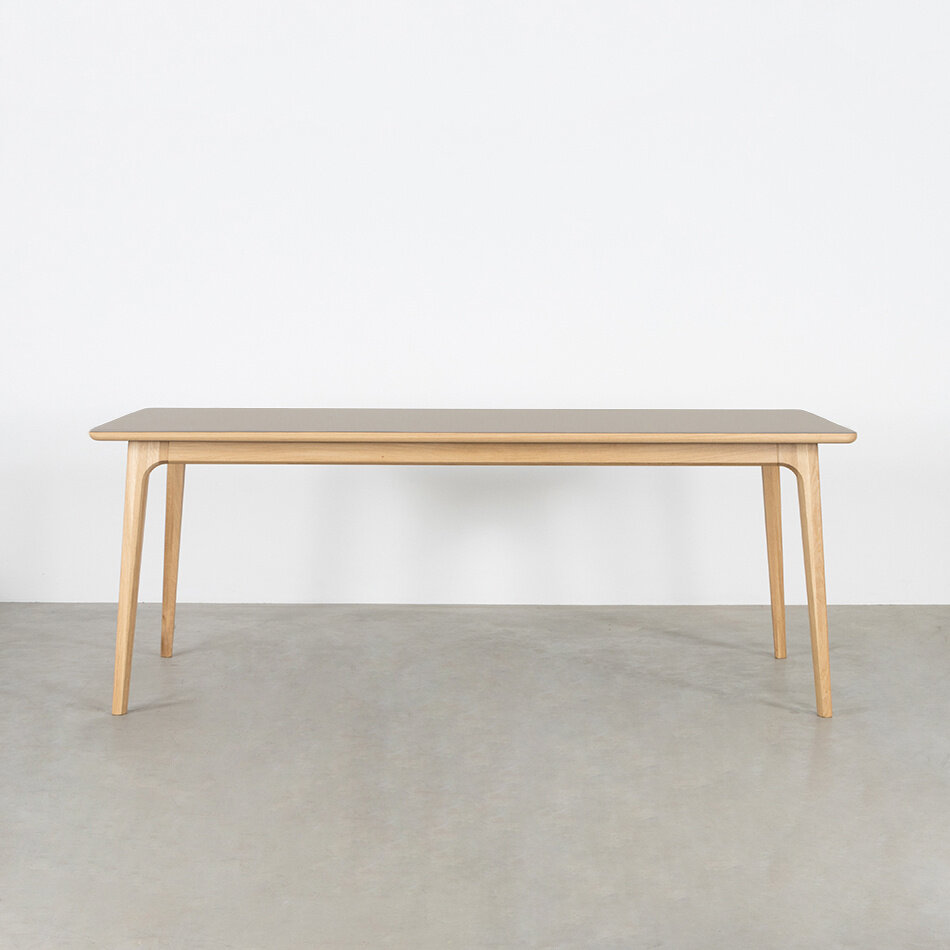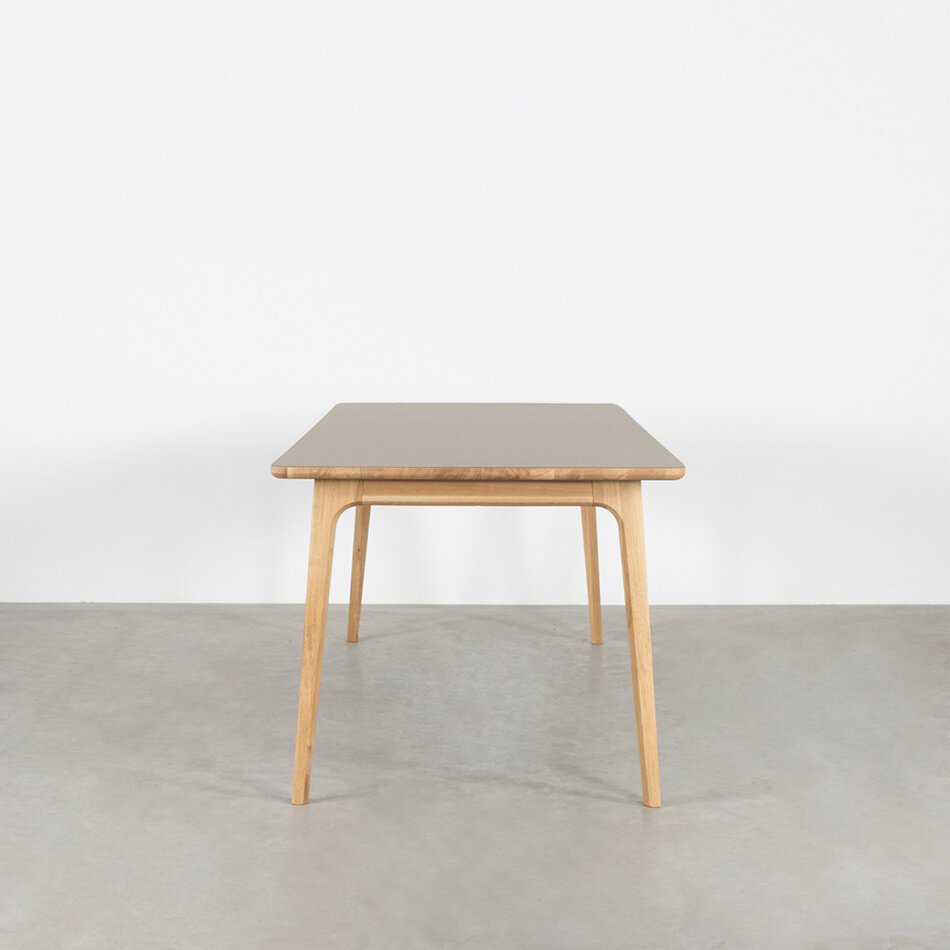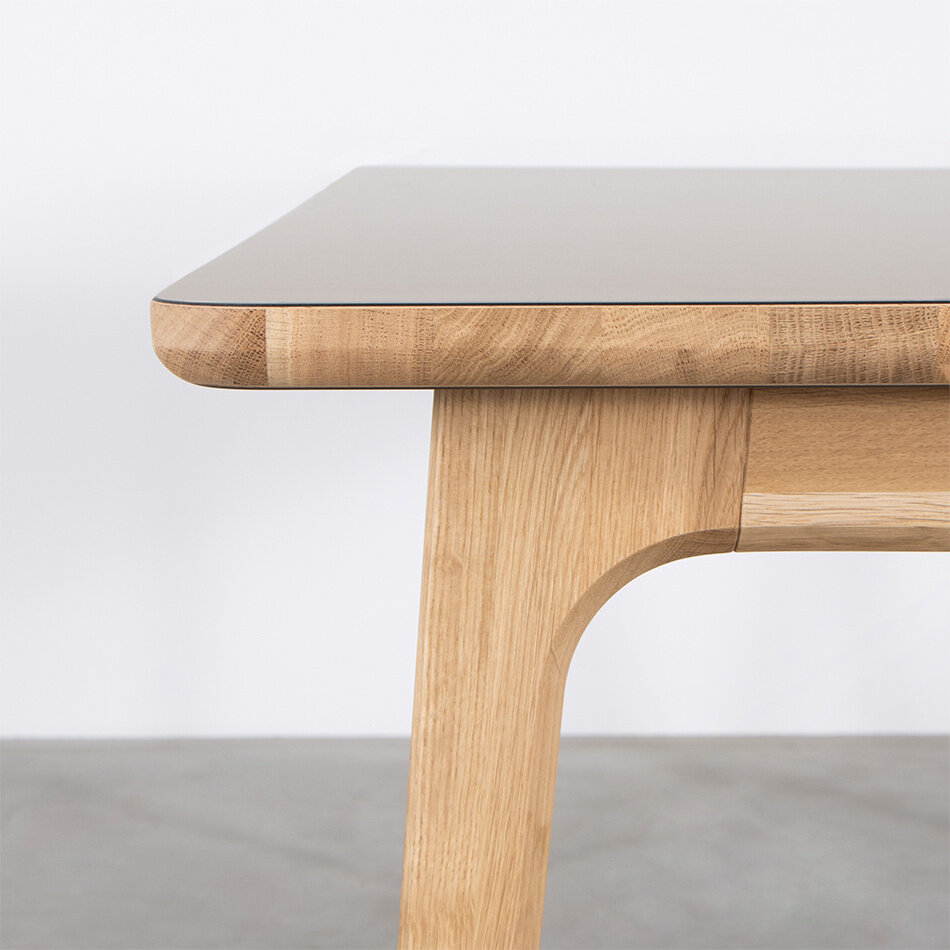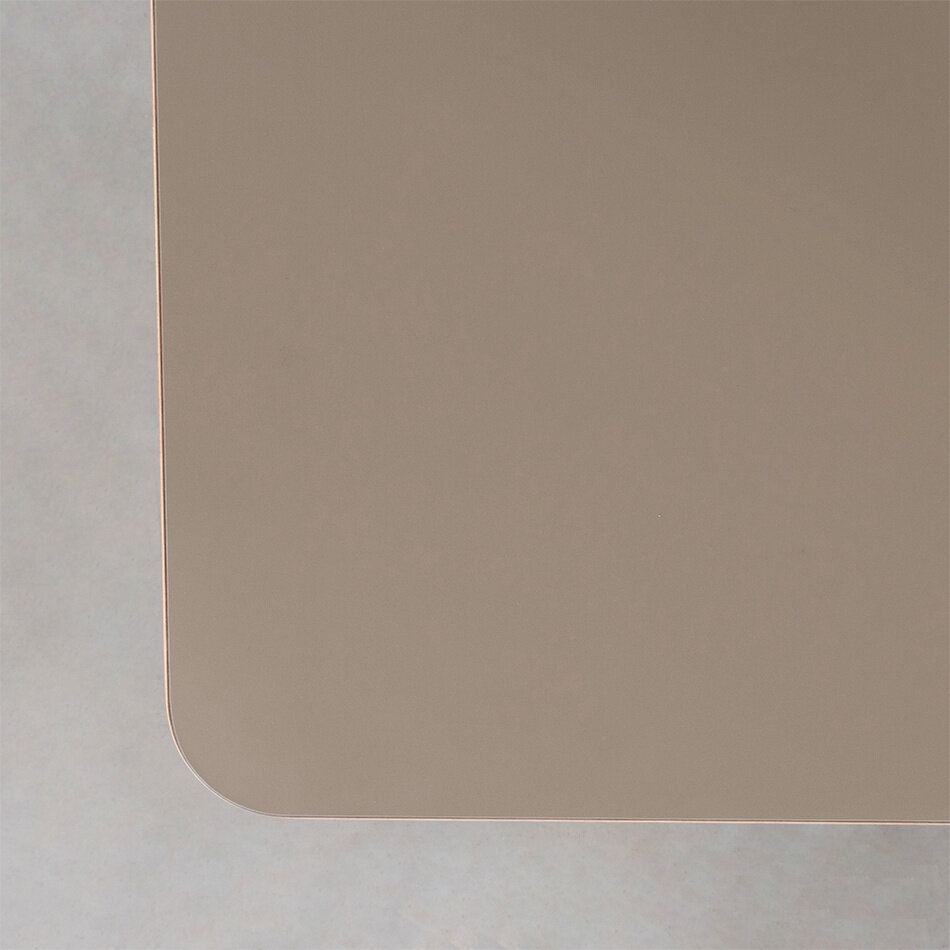 Technical documents
• Fjerre Table Dimensions (PDF)
• Fjerre Table Manual (PDF)
• Fenix Maintenance (PDF)
Wooden design table Fjerre
Shape down to the last detail, that is characteristic of the Fjerre. The table-top has a round corner finish and the sides also have a smooth round finish. The top of the table-top is flat. Much attention has been paid to the shape of the table legs. It is not immediately noticeable, but whoever pays attention will notice that it consists of a pentagon. The transition to the bottom edge is also beautiful and forms 1 whole.

The positioning of the legs has been chosen in such a way that ease of use is central. For example, the table legs are close to the edge of the table and there is therefore a lot of space available between the legs.

Dimensions
The Fjerre table is for sale in different types of wood, finishes, Fenix ​​colours and sizes. Other dimensions are made to order. The Fjerre table is also available as dining table. Is the size you are looking for not listed? Then contact us about the custom possibilities.
Wood types
The table is available in the types of wood:



Finish
• Oiled (standard)
• Matt lacquered
• Whitewash (only possible with oak)
For the maintenance of your oiled wooden table, we recommend giving the table a freshening up twice a year with maintenance oil. The maintenance set can be purchased online.
A Fjerre table with a coloured table top
A Fenix table-top is only available as standard for the Rikke, Fjerre and Tomrer tables. This is a custom option for the other tables in the collection.

A Fenix top layer on the table-top has several advantages: it is strong and scratch-resistant, has a soft 'soft touch' surface, a matte appearance, fingerprints are not visible and it is easy to keep clean.

We can supply the following colours:

The photos show the Fenix ​​version with beech legs. Fenix ​​top layer colour is 0717 Castoro Ottawa (Loam Grey). We recommend viewing the table with a Fenix ​​top layer in the showroom. In the photos, the Fenix colour ​​looks much lighter because of the studio lamp.
Order Colour Sample
Are you still in doubt about the colour 
Fenix for the top layer
 of your Sav & Økse table? With a colour sample you can be sure that you choose the right colour for your furniture.
Packaging & Assembly
The table is delivered unassembled in two cardboard boxes. The table is easy to assemble. The manual is included. Legs are mounted against the frame and top by means of bolts.
Product Information
Name: Fjerre table fenix
Brand: Sav & Økse
Style: Scandinavian
Material: Oak wood & Fenix Top Layer
Finish: Oiled
Dimensions: Length 160-280 cm, Width 80-100 cm, Height 76 cm
Warranty: You have a two-year warranty on the table
De Machinekamer for the business market
The Fjerre table is suitable for private use, but certainly also for business use. If you want to order several Fjerre tables, please contact us. We will then make a quote for you without obligation.
Fjerre Table Loamgrey Fenix Top - Oak Legs

Sav & Okse

€1.109,00
DETAILS
DELIVERY TIME
On backorder: 6-8 weeks