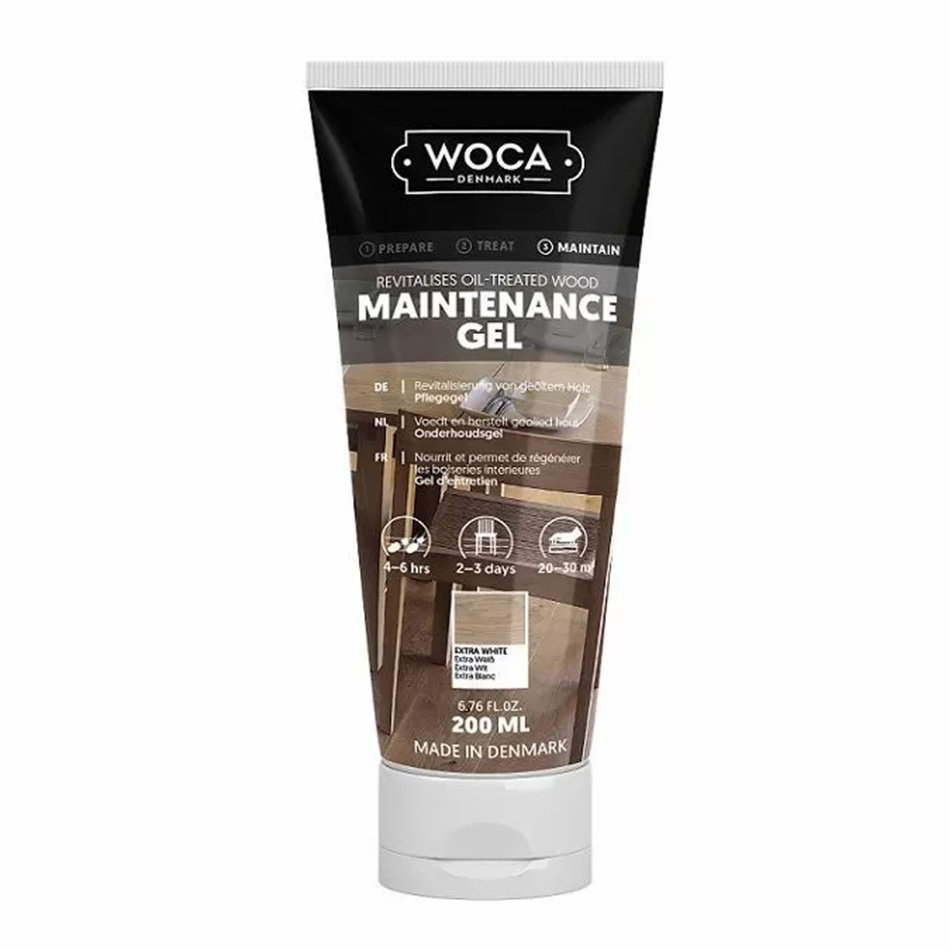 Woca Maintenance
Maintenance gel is suitable for the maintenance of oiled worktops, furniture and floors indoors. The quick-drying gel provides the surface with a water and dirt-repellent layer and also improves the finish on factory-oiled / UV-oiled surfaces.


• Extremely suitable for UV-oiled surfaces
• Excellent results on factory oiled surfaces
• Increases the durability of surfaces
• Can be applied manually with a hand pad or with a single-disc machine


Result
Provides rich, water-repellent protection for oiled wood.
Instructions
Apply the desired amount of gel with a white / beige hand pad and spread it evenly over the surface. Continue buffing until the wood is saturated and the surface is smooth. Because the gel dries quickly, we recommend working on a small surface at a time. For larger surfaces (floors over 10 m²) we recommend the use of a single-disc polisher. Immediately dry the polished surface with a clean, lint-free cotton cloth. If using a machine, place a cotton cloth under the finishing pad. The surface should look dry and no excess gel should be visible.

If the wood does not seem completely saturated after 4-6 hours, we recommend re-rubbing. You go through the same steps for this, but use less gel than with the first treatment. The surface can only be walked on again after 4-6 hours. During the first 2-3 days, prevent the wood surface from coming into contact with water or dirt.


Post-treatment
Not necessary.

Cleaning and maintenance

Regularly maintained with WOCA Natural Soap or Oil Refresher. Freshen up with Intensive Cleaner and Maintenance Gel.


Colors: Whitewash
Packaging: tube 200ml
Consumption: 20-30 m² / tube