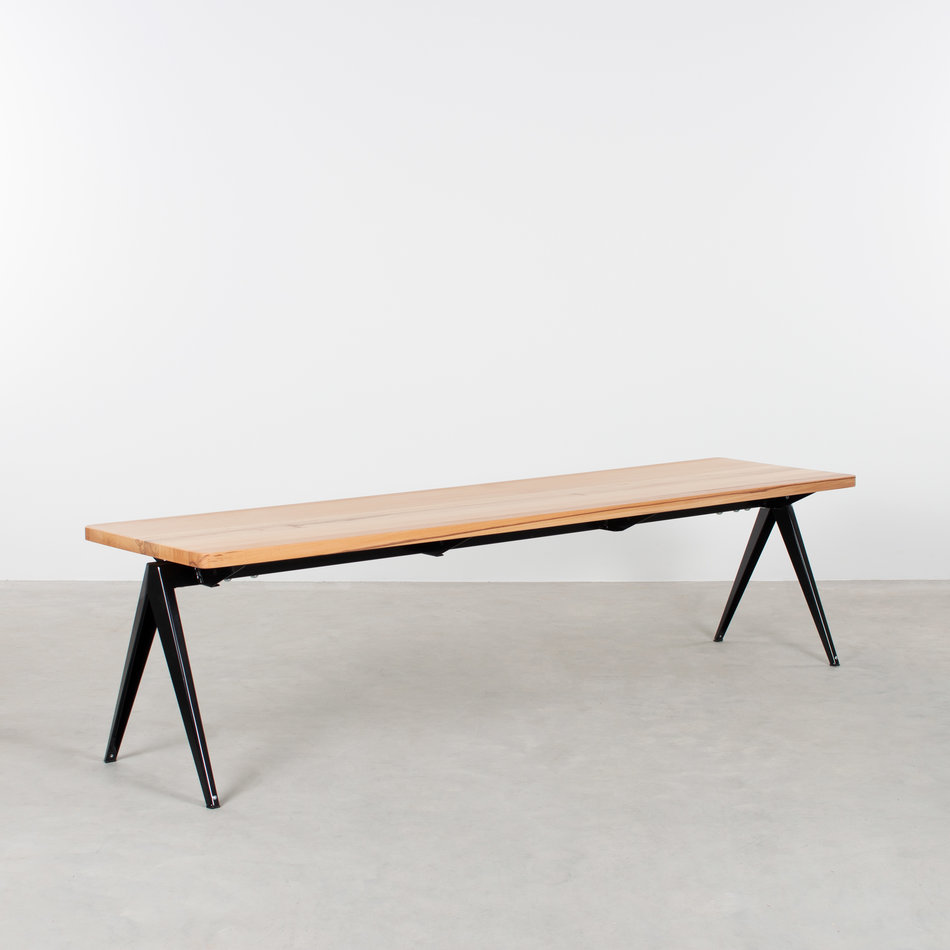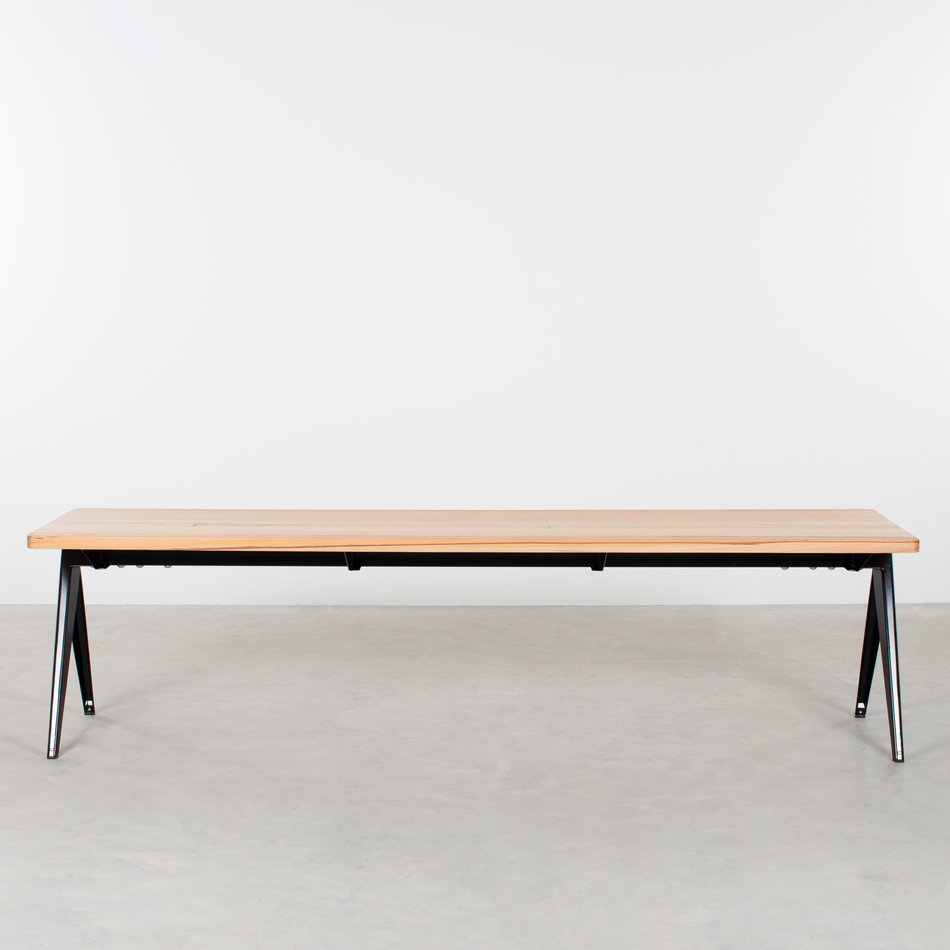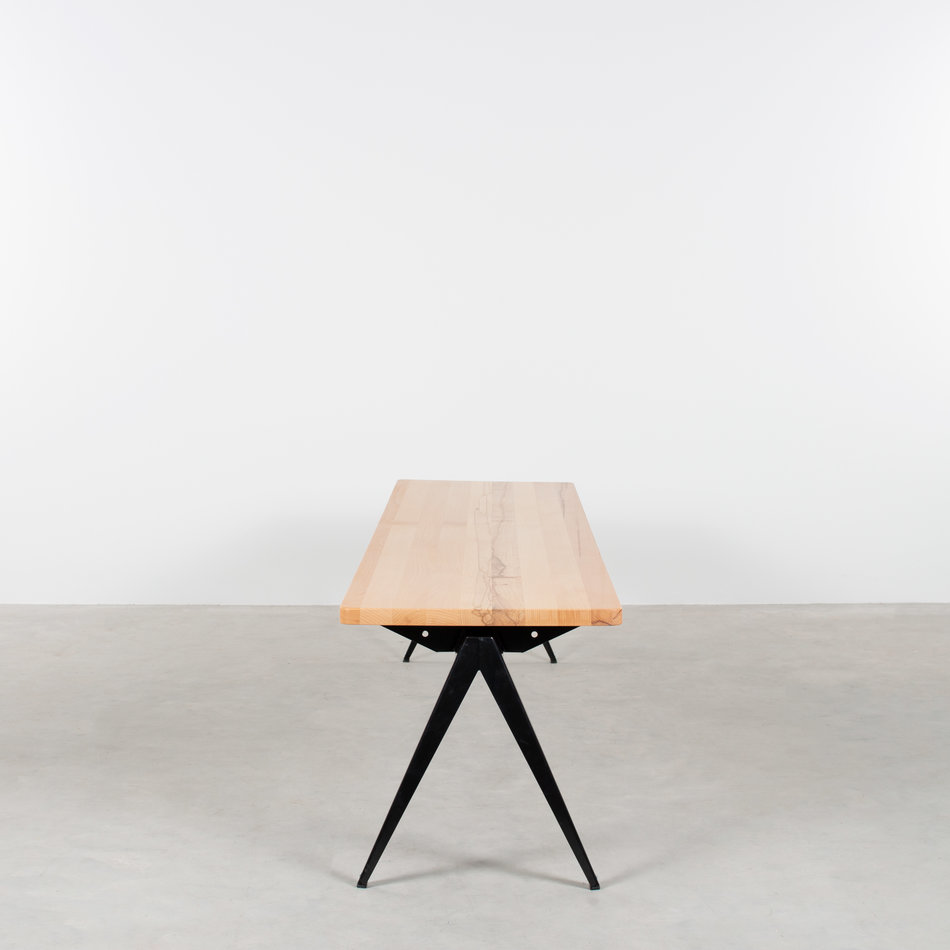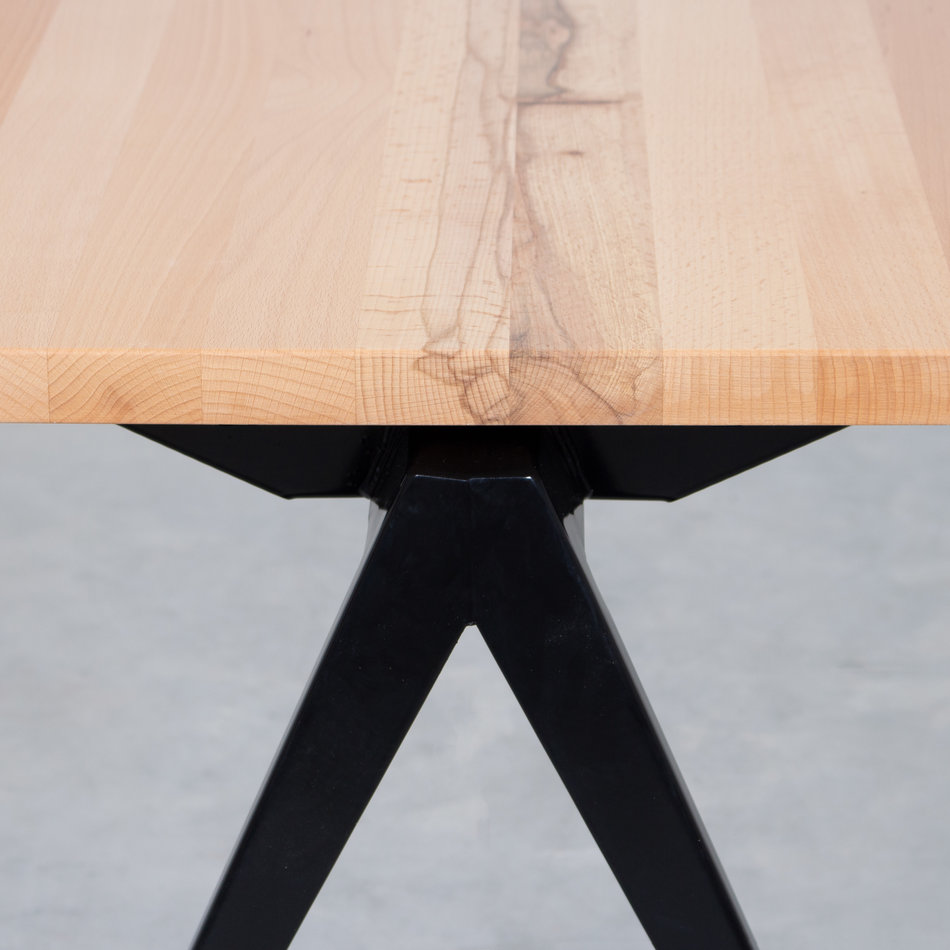 Technical documents
• TD4 Table Bench Dimensions (PDF)*
• Galvanitas Compass Collection (PDF)
* Scroll down in the PDF document for the English translation
A design bench based on an old school table
The TD4 dining table bench is a special design. Maybe it looks familiar to you. the bench is based on the steel school tables from the 60s. Now a dining table bench with a metal base and a solid wood seat. Constructively all elements are the same as the steel school table. The design with the clean lines and characteristic compass-shaped legs has also been adopted. The design may appear simple, but the trained eye will discover many beautiful and distinctive elements. Definitely a challenge for our renowned furniture maker, but the result is impressive.
Solid wood seat
The seat of the TD4 dining table bench is made of solid wood. You can choose from beech, oak or walnut. The solid wood has a smooth and soft finish, giving it a light appearance. A table that fits in different styles. The sofa fits in well with current interior styles. With its seemingly simple design, its light appearance and good quality, it is a bench that goes well with different interior styles. With its industrial origin, the TD4 dining table bench fits well in an industrial interior. The industrial school chair Galvanitas S16 looks beautiful. Both with the characteristic compass-shaped legs, they make a great dining room set.
Make it your dining table bench
The TD4 dining table bench is available in different frame colours, types of wood and dimensions. You can contact us for different sizes and wishes.
Wood types
The dining table bench is available in the types of wood:

Finishes
• Whitewash (only with oak)
• Oiled (standard)
• Matt lacquered
More information about the different finishes.


For the maintenance of your oiled wooden table, we recommend that you refresh the table twice a year with maintenance oil. The maintenance kit can be purchased online.
Colours frame (Image is a link)
Construction
The dining table bench is easy to assemble. The manual is included.
Packing
The seat and legs are supplied in 2 separate boxes.
TD4 custom dining table bench
Do you want the TD4 dining table bench in a different colour or size? Please contact us and we will discuss the possibilities.
Guarantee
2 years
De Machinekamer business market 
The TD4 table bench is suitable for private use, but certainly also for business use. If you want to order multiple TD4 table benches, please contact us. We will then make a quotation for you without obligation.
DETAILS
DELIVERY TIME
On order: 6-8 weeks